Pacific Lighting has been manufacturing custom glass gobos since 1995. We are the only
dedicated manufacturer in the region, with 100% of the production process taking place
in our facility in Hong Kong. We pride ourselves in providing custom black and white,
halftone and full colour glass gobos of the highest quality and resolution available
anywhere in the industry. Each gobo is quality checked by two technicians, to ensure that
every gobo that leaves our premises is perfect. As we control the entire process, it is
possible to turn around any size of custom black and white glass gobo ready for dispatch
the same day.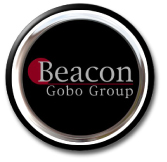 Pacific Lighting is a member of the Beacon
Gobo Group